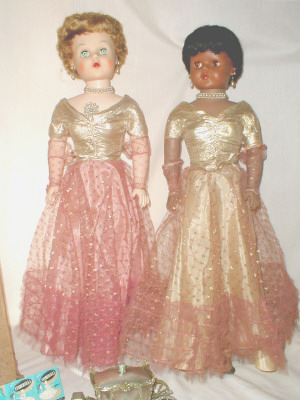 Here are my minty Cinderellas.
Here are her jewels from an owner of a Cinderella. She was kind enough to send in her pictures of her doll's accessories. I haven't seen any dolls with the crown, but she sent the beading instructions to my sister to see if she could duplicate it
The coach is silver coated plastic.

Here is her tag.

Here is Cinderella's generic box. .

I placed this Darling Debbie Box here, because it is a rarity...look at the Bottom of the box. It says it contains a royal coach.
I didn't think that Debbie came with a coach, but I recently corresponded with someone selling her childhood doll with the same box, and she definitely remembered playing with the coach as a girl.
I wonder if this girl got one.
My friend, Bev, found this box and with it a mint Debbie, but no coach with it either.
Update, My Deluxe Doll friend, Victoria, also has a web site with inforation similar to mine, and she has obtained a picture of the coach that goes with this Debbie Doll. It's gold instead of silver, and here's the picture..thanks.