This is Sweet Ann in the red dress that you see the most. I loved her ablity to move her arms and legs, that my Betty Bride could not do. She was missing her shoes, but I had found an outlet for them made from the same mold. These dresses are not fun to clean, but they are gorgeous when they are clean. She has paper flowers at four points on her dress and on each shoulder. She oiginally came with a pearl choker but had misplaced it. My sister made a duplicate for her.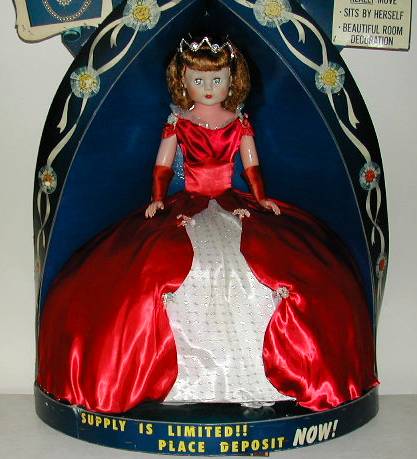 Just for fun, an auction on ebay had these cute pictures of Ann driving off to her next parade in a little child's car...looks as though she is having fun! Thanks for the use of the pictures, Jan.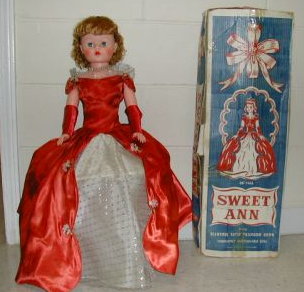 Here is a picture sent in for us from Ron showing her and her original box. He also originally had the display case showing below. What beautiful dolls, and what space they occupy.
Also, if you look at the graphics on the boxes of these two ladies, Ann and Gail, shown on the next page, you are seeing that they are reversed. Ann in the red dress has a blue box, and is showing a red dress. Gail in the red box, is showing a blue dress.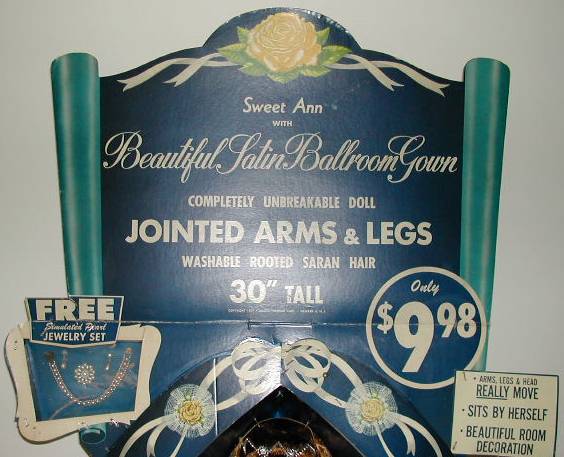 Both Ann and Gail have this tiera.
You might also notice, that the red on this dress is fading down to kind of a funky orange type color.