In my travels through the flea markets, I sometimes stumble on a treasure such as this. She has two broken fingers, but my partner in traveling didn't think she had high heeled feet. I guess I knew just by looking at her face. They kind of yell at you...here I am. I had to do some fair bargaining to get her to my price range, but she finally made it home.
Can you believe someone would not want that doll? Mom sure knows how to pick them.


Here are my little 10.5 Tony's each with a different dress on, none original. The red dress is one my Coty doll had, and the pink was made by Sylvia Delgado, the blue I purchased with another doll. The hair is different on each doll. Original price for a small Tony was 4.00.
Sue's Signature Dress
Sweet Sue in her signature dress. It is entitled "Birthday Party". She is wearing a lace trimmed sheer white nylon dress with a satin sash..(mine is missing)..Her skirt is scalloped and embroidered "Sweet Sue" She has a fancy taffeta slip, matching panties, nylon stockings, shoes. She is missing her model case with high heeled shoes, ballet slippers, and leotard. Her original price was 13.98 for the 20 inch version, 10.98 for the 14 inch, and 18.98 for the 25 inch doll. Below is the picture of Patricia's 14 inch doll.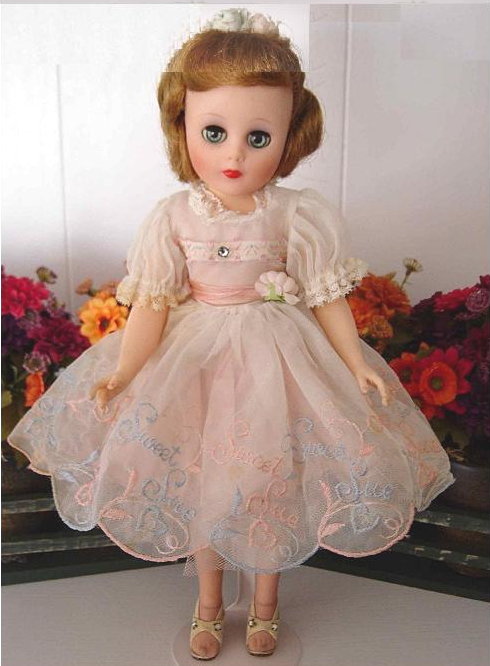 Sue Sophisticate
American Beauty
It's called American Beauty for Sweet Sue Sophisticate.
Queen of the dolls. So enchanting-she looks like a movie star. Dressed in a perfect ball gown-chiffon overskirt, taffeta underskirt, satin bodice, with a draped chiffon stole-neckline and flowing ends. She sports a hooped petticoat that makes her full skirt stand out. She comes complete with flower spray, jewelry, strapless bra, panties, nylon stockings, and high heel shoes. Her original price was $16.98 for the 20" version and the 25 inch doll listed at 22.98.
The MIB picture of the 25 inch version was donated by her owner, Lena Jones. Thanks Lena.
Here Are the Brides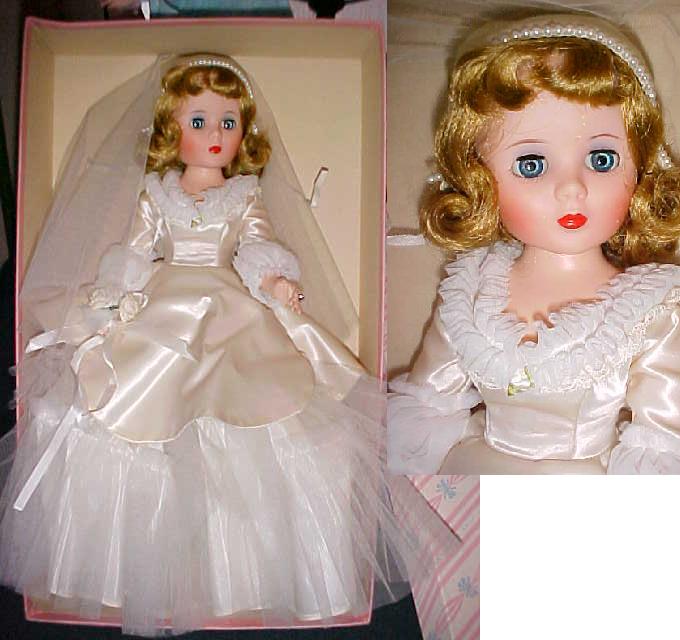 Here is a minty Bride. Her dress is a white satin gown with double tiered nylon tulle skirt, puffed out by a hooped taffeta petticoat. Her white satin, pearl trimmed cap should have a scalloped veil with a bridal bouquet. Her original price was 14.98 for the 20 inch version, and 11.98 for the 14 inch doll.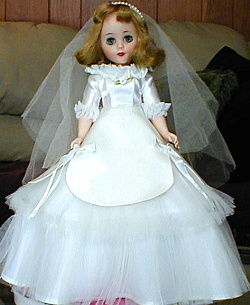 This is the 14 inch version. I'm still looking for a picture of her in the smaller 10 inch size.

Of course she has high heeled feet, did you think she was a flat foot? My boyfriend couldn't tell. She does have a broken finger, but I can find someone that can fix it.

She has a reproduction tag for Sweet Sue Sophisticate. She has a hand made dress that had dimestore lace on it. The dress was ok with the trim lace and pearls, but white dimestore lace had to go!! An afternoon in the sewing room reproduced her dress to make her a star! Now march down that isle and make them look at what he gets.


The Romance Dolls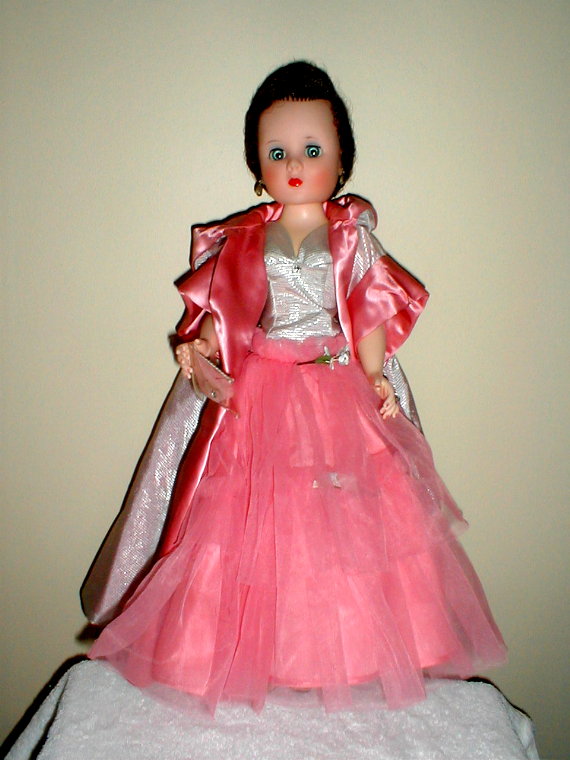 Here is Sweet Sue wearing an outfit called "Romance". She is wearing an evening ensemble over a taffeta underskirt, a double tiered nylon tricot gown, with a silver lame' bodice. Her hooded lame' and satin evening coat is reversible. Her accessories include an evening bag, high heel shoes, nylon stockings, strapless bra, panties, hooped taffeta petticoat, and earrings. Her original price was 17.98.
She is found in both the blue and the pink versions.
Boy, I'd love to do a time-warp, and go SHOPPING.
Below the blue doll's picture is the 15 inch version.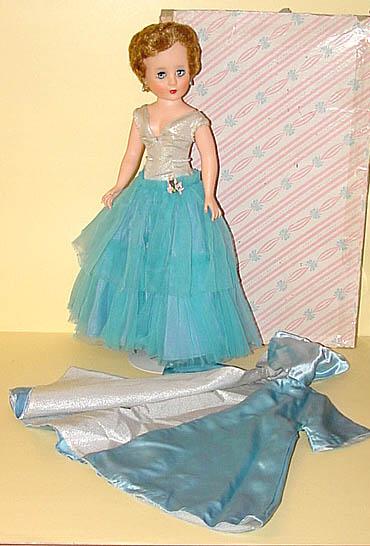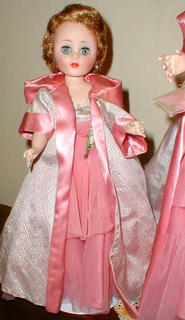 Click here for my Album of the Romance Dolls
I thought when I got my original doll, that the dress looked incomplete, so I finished it like with what I thought it should look like on the top, by adding the scarf and the bow. She is carrying her accessory case, although it is empty..
Then when my second doll came in, here is the rest of my original doll's outfit, that is completed by adding in the wrap-around skirt. It's a multicolored fabric, that according to original pictures, should be tightened up so the bottom of the underskirt shows.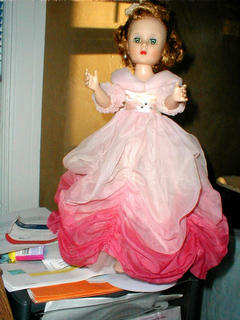 No mention is made of the 15 inch doll, even though we have pictures of one, thanks to Jen's beautiful 14 inch doll collection.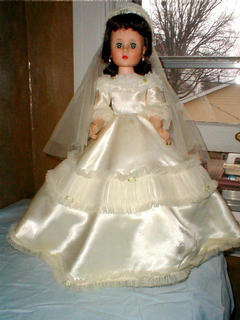 Here is my new Sue Sophisticate in brunette hair. She was pretty minty when I received her, if it weren't for all the dust inbeded in her outfit. She cleaned up nicely. I can't find the name of her outfit. All I can find is she is the prettiest bride since Cinderella! Below is her 15 inch sister, that I didn't win on ebay. She also has a heavy white (mine is off white) satin bridal gown has a ruffled nylon tulle insert, nylon ruching at neck, sleeves, and hem. Under it, a hooped taffeta petticoat, matching panties. The ruffled half cap has a full nylon veil. Earrings, bridal bouquet, nylon stockings and high heeled shoes complete her outfit. She was supposed to have a model's case with extra shoes, ballet slippers, and a leotard. Her original price in the 20" size was 15.98, 12.98 for the 14 inch, and 21.98 for the 25 inch doll.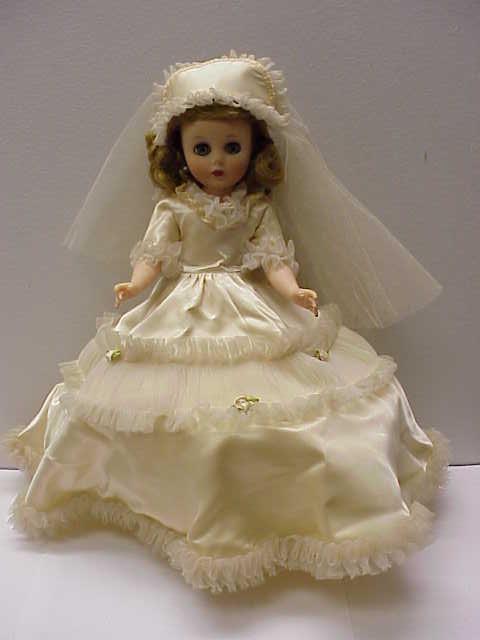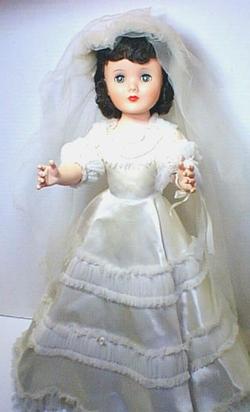 Here is Lena's gorgeous new 24 inch doll in the same version of this dress. What a gorgeous doll.
Two fifteen inch Sweet Sue's were on ebay a while back, and two doll club friends ended up with them. Pam sent in the picture of her doll she received, with the same dress as my doll. Jennifer, got the doll with the dress in pink trim. She sent in the pictures of her doll to share with you.
If you click on the doll in blue, you will see the condition that she received her in. We in the doll clubs, love challenges, but Pam was really working to get this dress back into shape. Jennifer was having the same "fun". She had someone fix her dress, and after washing the dress, you would never know it was the same doll. Look at the gorgeous hair on those dolls.
Thanks girls for sharing.!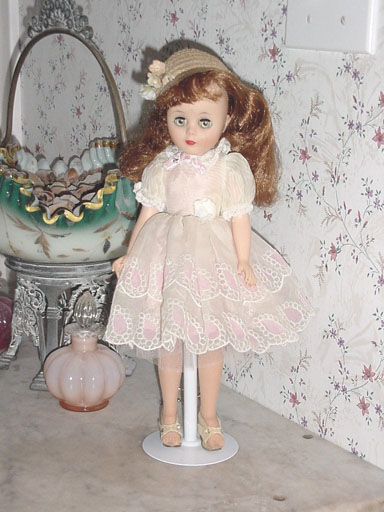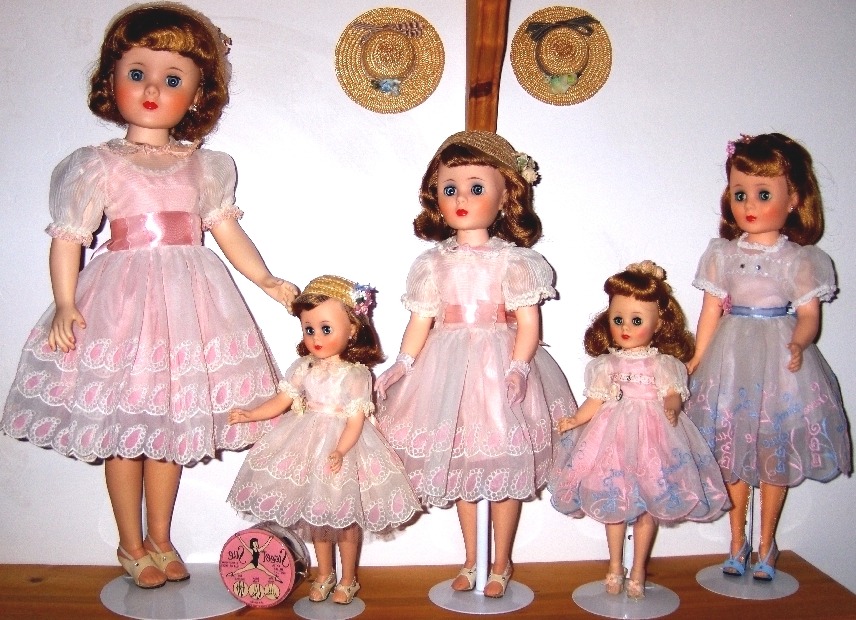 Thanks to Michele sending in her pictures of her various sized dolls in their matching dresses...I'm sooooo jealous.
Toni American Beauty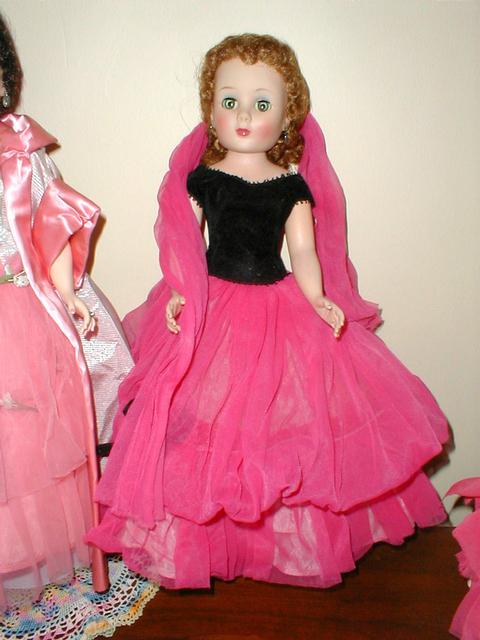 This is the Toni American Beauty...the other American Beauty is listed as a Sweet Sue Sophisticate in the books, so don't get confused...right...She is listed as "so feminie in her exquisite formal gown featuring boufant thiers of "American Beauty Rose" nylon tricot-lavishly draped over a rich taffta underskirt, and dramatized by a black velvet bow. It has a glamourous fitted black velvet bodice. There is oversize matching nylon tricot stole, secured by a rhinestone pin. Combination slip, panties, strapless bra, nylon stockings, high heels, rhinestone earrings, and a rosebud flower spray," complete the ensemble.
The 14 inch doll was 10.98, 20" was 12.98 in one book, and 14.98 in another, and the 25" was 19.98 in both books, a real "steal" in these auction days.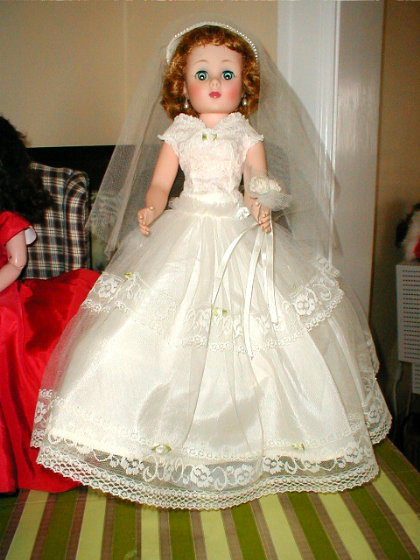 Here is my Toni Bride. This is the description in the catalogue. She is a vision of liveliness. Her exquisite bridal gown is all nylon lace and net, with fitted bodice. The skirt is enhanced by wide lace inserts over a taffeta hooped petticoat. She sports a peaked bridal cap edged in simulated pearl with finger-tip nyule tulle veil. Tiny rosebuds accent the gown. The doll carries a white rose bridal bouquet with long satin streamers. She has panties, strapless bra, nylon stockings, bridal slippers, earrings, and ring. ( Mine has none.) Her price was 15.98 for the 20 inch version, 11.98 for the 14 inch, and 21.98 for the 25 inch doll.
This is the 10 inch version, and they didn't even list it with a price. Go figure.
Sunday Best
This doll is in her dress titled Sunday Best. The prettiest dress in the Sunday School class is Sweet Sue's hand painted nylon, sheer, finished off with a lace trimmed collar and wide sash. Her petticoat matches. Flowers trim the straw hat. Panties, nylon stockings, shoes. Her model case contains high heeled shoes, ballet slippers and leotard.
Price for this 25" doll was 19.98, 14.98 for the 20" and 11.98 for the 15" doll.

Now as usual, the case and accessories are missing on my twenty five inch doll. She came with flat shoes, but the puppy got his teeth in them..kids...I found her new heels of that era, with the right color and size, but as you can see, she has difficulty wearing them, the feet are not shaped for them at all, and she, like a lot of girls, is having a hard time walking in them...remember that first pair of heels? Click on the picture for a closer look at the top of her dress, I haven't had time to tighten up the sleeves...well, ambition to tighten up the sleeves is probably more correct...some day...
Click on pictures for more views.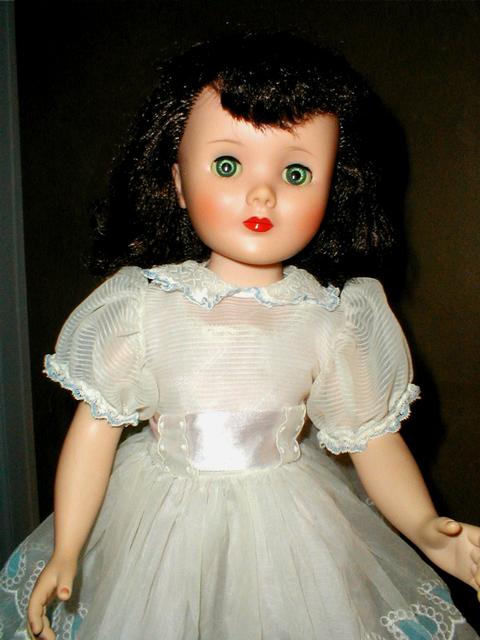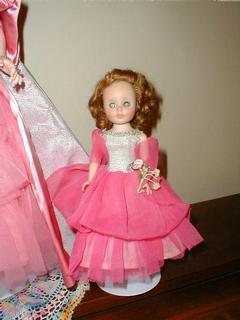 This young 10.5 inch lady is confusing to me. I thought she belonged to the Romance series, with the pink colors, and the lame' top, but when I put the girls all together, she really doesn't belong!, The dress is the same color and style as that of the American Beauty girls, on the right. So which series she went to is beyond me. She still had her bouquet, but her shawl was gone. I replaced it with the correct color, and she's ready to go strolling again. Click on her picture to see her with the Romance girls.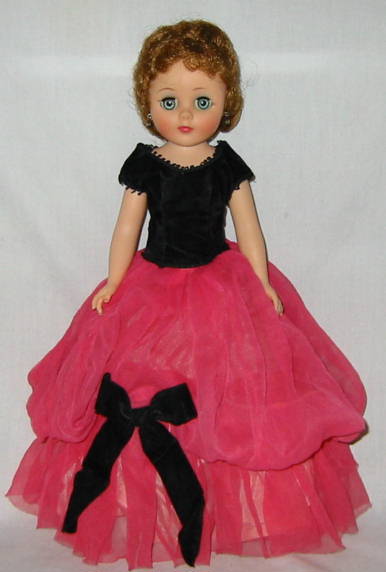 This is the 15 inch version that belonged to Diana Van Pelt. Thanks for sharing, click on pictures to see more views.