I have two of the Effanbee dolls, at the present time, there may be more. The version came with pink, and blue outfits.
The first set of "The Most Happy Family" were made with the teen doll, Tiny Fluffy and Babykin. This is a picture from the Effanbee book showing the original living room set (the photo has the glare) The second article shows that they added Brother Mickey.
The mother doll is 20" tall, Sister (Fluffy) is 11", Mickey is 11", and Baby is 8".
My baby is not original. I don't have a good picture to find out what it is supposed to look like. As you can see in the pictures in the book, she-he is always in the distance or covered up.
I got the new kids on ebay and then found in researching a new book, the baby is a Kellog's premium doll, called Baby Ginger.
She was offered as a premium in 1958 for $1 plus a box top from Rice Krispies or Raisin Bran. An additional dollar and box top would have brought with her a bunting, blanket, crib sheet, pillow case, peach dress and pjs.
Not bad.
Thanks to Belienda, who sent in a picture of the layette for Baby Ginger. Now isn't she a real cutie with all that stuff. It's remarkable it's all still there.
Here is the red coat version. The Effanbee book says there was no red coat.....funny, this looks red!

Here are where all the dolls have gone. And we have to look and look for replacements. I know she wanted to sit and cry.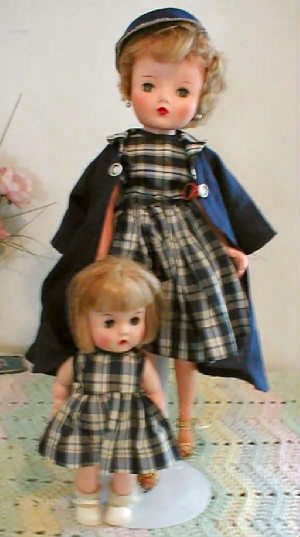 This is my set of dolls that are Mother and daughter. She and her daughter have matching outfits, but no identification on them anywhere. She stands 19" tall.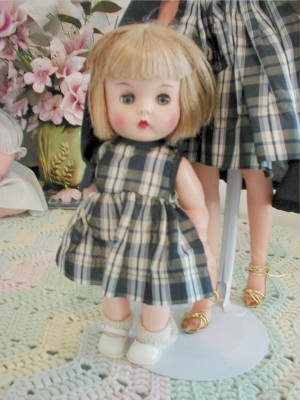 Carlotta Dennis sent in the pictures of her family dolls. It sure looks the same as mine, with the markings of P21 on it. The cut of the dress is the same, with her hat and coat. What a cute set. Click for another view of her and her daughter.
I call them " The Easter Morning Girls". The mother is 20 inches tall with a swivel waist and is wearing her blue sleeveless dress trimmed in satin with a matching coat with satin polka dot tie and cuffs. She has a matching felt Pill Box hat and lovely lace cuffed gloves. Underneath she has her panties, seamed stockings and is wearing white high heels...she has her pearl earrings also. The daughter is wearing a matching dress like her mothers w satin trim and has her panties, rayon socks and her plastic maryjane shoes. She is holding her vintage plastic baby doll with with tied up in a pink flannel blanket and pink ribbon. The daughter is 13" tall. The only markings I could find was on the mother and she is marked P21.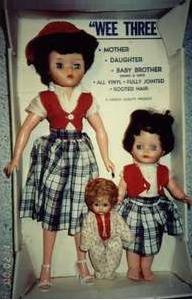 Here is a picture of a set of Wee Three dolls. These have the "dollikin" type face, from Uneeda. The girl should have a red bow in her hair. What a cute set.
Below, are different versions.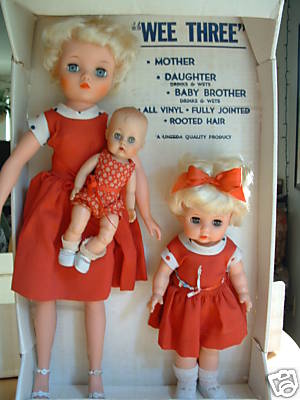 Melinda loaned me her pictures of her set of Uneeda dolls with another outfit variation. The mother has a Dollikin face with arms that move for sitting/posing & she's wearing a stunning 50's red linen dress w/polka dot sleeves and collar, nylons and white open toe shoes. The little daughter is wearing a matching dress but she has white nylon socks and closed t-strap shoes. The baby brother is wearing a red/white cotton jumper w/white socks/shoes. Thanks Melinda.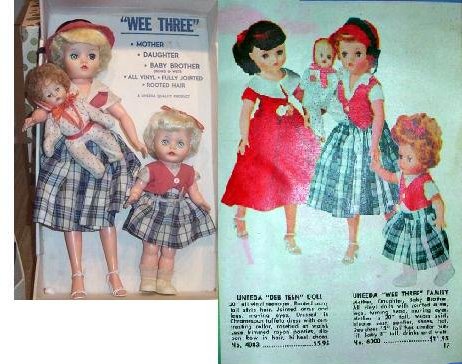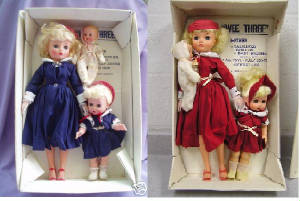 This red set belongs to Sam (Candace), and she graciously loaned me the pictures to show off. Then I found the same set in blue.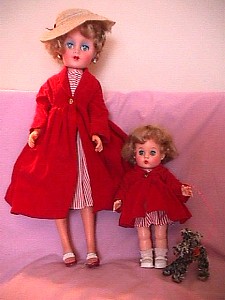 This Mother-Daughter set was put out by Plaything. Click for another view
We have located a mother and daughter set, called the Huggable Family, that was put out by Horsman. For more pictures, just click on the picture to link to the Horsman site developed by Jody and myself on the Horsman dolls.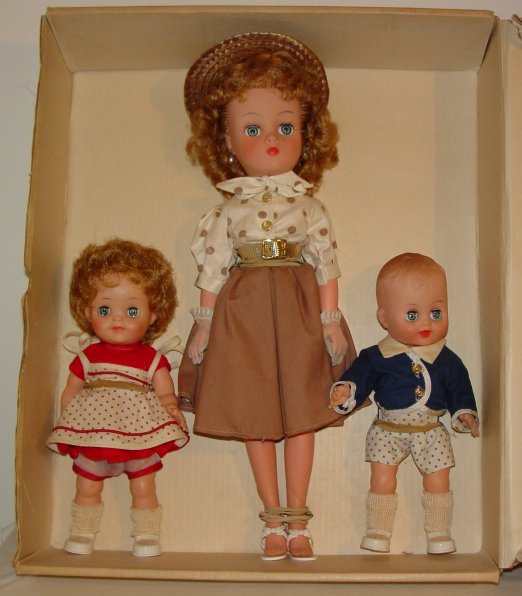 Family Trio Set
I recently received an email from a doll collector friend, that she had this doll set that I didn't...imagine that. Well, she gave me permission to use her pictures on my site, so more would have access to her treasures. Thanks Zendelle.
The Family Trio Set consists of three all vinyl dolls, jointed at the neck, shoulders and hips, with blue sleep eyes and brush lashes. The family is packaged in a plain white box that suggests it may have been sold through a mail order catalog. On one end is a printed label that reads
"FAMILY TRIO SET."
The mother is a 17" Cindy, with rooted blonde hair in curls, mature figure, pierced ears and high heel feet. Mom wears a brown cotton skirt, cream blouse with large light brown polka dots and gold tone buttons, gold belt, gloves, petticoat and panties, nylon hose, white high heeled shoes, drop pearl earrings and a straw hat.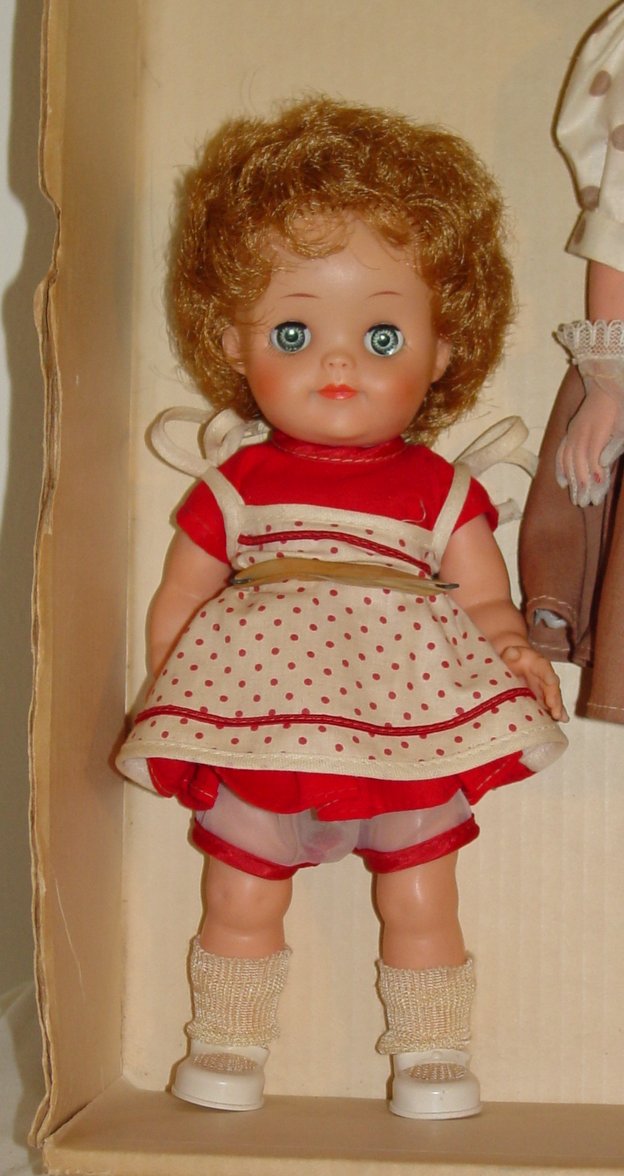 Her daughter wears a red short-sleeved cotton dress, white pinafore with small red polka dots and red trim, white nylon panties with red bands around the legs, white rayon socks and white shoes. She is 10.5" tall, with curly blond hair and a closed, slightly smiling mouth.
Check out Z's site for more doll information.
And from the internet doll groups, Lisabeth came up with this ad from Niresk showing a Mother and Baby.
Surprise, surprise, she and her twin sister has been sitting on my shelf for a long time. Now be careful with these girls. They are a hard plastic, not a vinyl, and when I moved her leg to pose her for pictures, she broke her hip...well, what do you expect from a "boomer"...hip replacement time is here.
Mine came with a little girl with the red coat and hat, but evidently she adopted this little girl from Effanbee family, since the coat and hat are the same. My red coat must have been caught in something, it's all chomped up in the front.
The ad shows her with a baby, but those were lost easily.
Barb sent in her pictures of her Mother and Daughter, with puppy in it's original box. She states that is is just a plain cardboard box, with the sides wrapped in gold and cream striped paper. It probably had a box top or cellophane top at one time, but it has nothing on it now, other than the name on the mailbox of the background. She also says the Mother has only the number 21 on the back of her neck...no real help there either. So, one more to do more research looking for a manufacturer. If anyone else has one, let us know.
Well, that paid off. I got an email from Jayme Stoffer that she had the red version of the Luvables, and the label on the box says that it is a Sayco doll. Mystery solved, and she sent in pictures of her fabulous set. Thanks a bunch.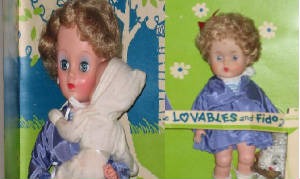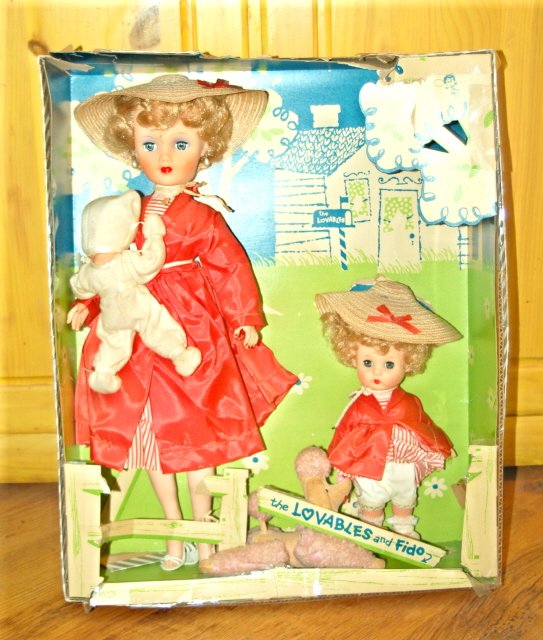 I'm finding three prints on these dresses. One is a blue cherry print, one is a red cherry print, and one is a multiple colored print that would work with either coat.
You can see different dress styles in these two pictures, but still the same face, and cute little girl. The set was available in red and blue versions.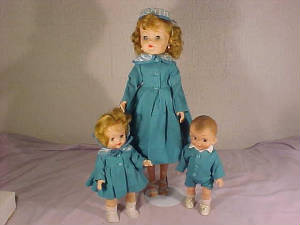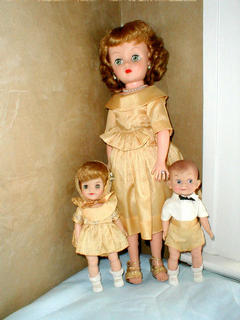 This is my other set of family dolls. She has 32 on the back of her neck, but does not have the face that goes with either Effanbee or Uneeda dolls. She is wearing a double band wedding ring. The kids, on the other hand, do have the Effanbee on the back of their necks with Mickey and Fluffy stamped on their necks. I have seen this set one other time on ebay, and have seen a description of the gold outfits in one of the doll books. You decide.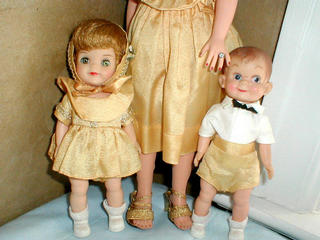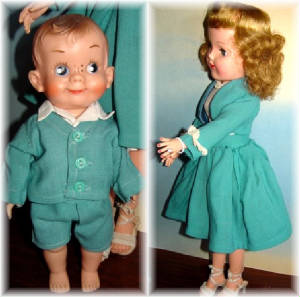 This set lost the little girl, but she still has her rings. Click for other views.
Another version of the outfits. You can see different dress styles in these two pictures, but still the same face, and cute little girl. The set was available in red and turquoise versions
This set lost the little boy.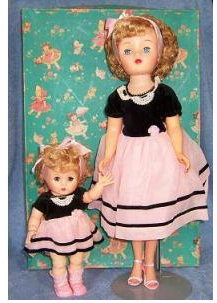 Sherry is sharing her set of Mother-Daughter dolls mib made by Jolly with us. Just look how cute this set is.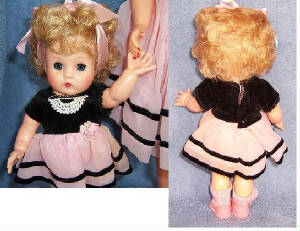 DAUGHTER

About 11" tall. Just tall enough to reach up and hold her mother's hand. Jointed arms, legs, and neck. All soft vinyl.
Sweet face with nicely blushed cheeks, bright red lips, blue sleep eyes with all of her upper lashes, painted eyebrows, and lower lashes. Short, curly blonde hair. The bodice of the dress is black velvet and the bottom is pink with 2 black stripes. Attached pink slip. Buttons in the back. Little rose attached at the waist. White lace collar. Pink vinyl side-snap shoes. Pink socks. Pink panties.
MOTHER
About 19" tall. Jointed arms, legs, and neck. Soft vinyl head with harder vinyl body. High-heeled feet. Red painted fingernails and toenails.The bodice of the dress is black velvet and the bottom is pink with 2 black stripes. Attached pink slip. Three buttons in the back. Little rose attached at the waist. White lace collar. Stockings, pink panties, and pink high-heeled shoes.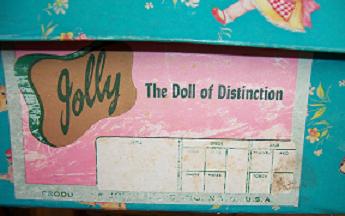 Box is so cute with cute little girls, dogs, and cats all over it. It is in very nice condition, although not mint. The sticker on the end reads: Jolly / The Doll of Distinction. On the inside of the box is factory written in large red letters:
MOTHER & DAUGHTER.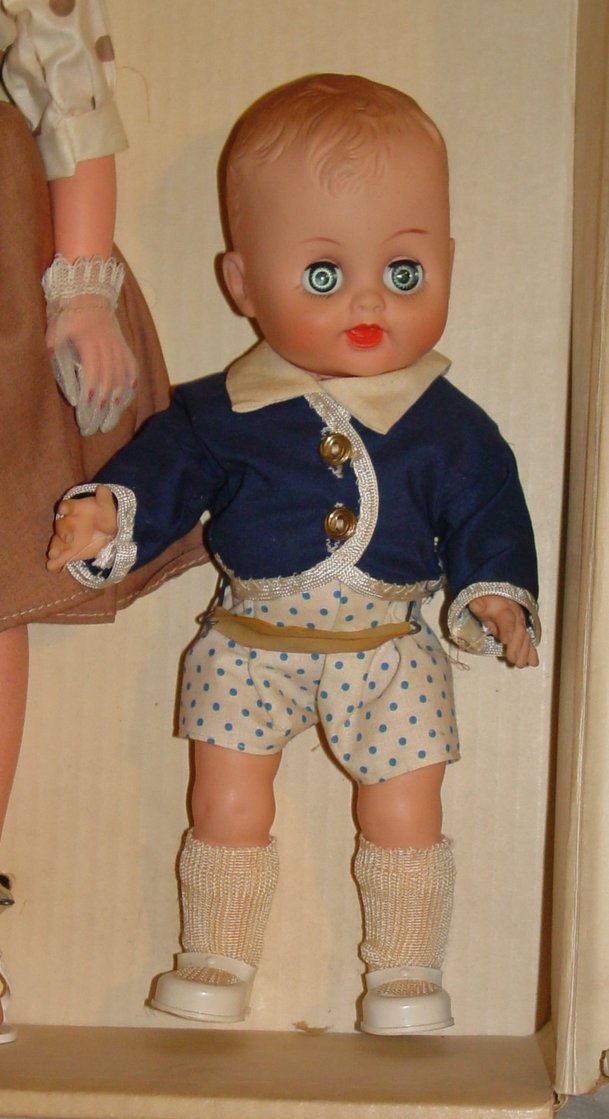 Her brother wears a cotton playsuit that has a white short-sleeved top attached to white shorts with small blue polka dots, a blue long-sleeved jacket trimmed in white, white rayon socks and white shoes. He stands 10.25" tall with molded hair and an open/closed mouth with a big smile.