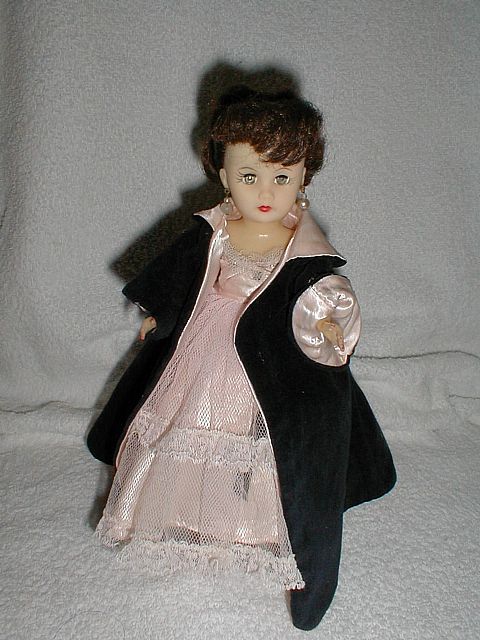 Here you see the 10.5 inch Coty doll that I have had since 1957-58--somwhere in that time span. I believe that I got her the year after my Revlon doll. Anyway, she came to me with this beautiful dress and coat. The dress is a satin with tulle overlay, a single rhinestone at the front of the dress and layers of ruffles. The coat is satin lined with a velvet type fabric. An article that I found recently, said that it was a three piece outfit, but that the pieces may have included the shoes for it also. That part I don't remember. She has a few other dresses, but they are said to be Revlon outfits.
I clip pictures and tags from all over, and here is the proof- at least to me- that this is my Coty doll. First the dress matches the box, second, this is the only dress that I have had with this doll, other than asking Santa the next year for additional clothes for her, and those seem to be Revlon doll clothes. I tried to enlarge the end of the box so you can see the dress matches. TADA.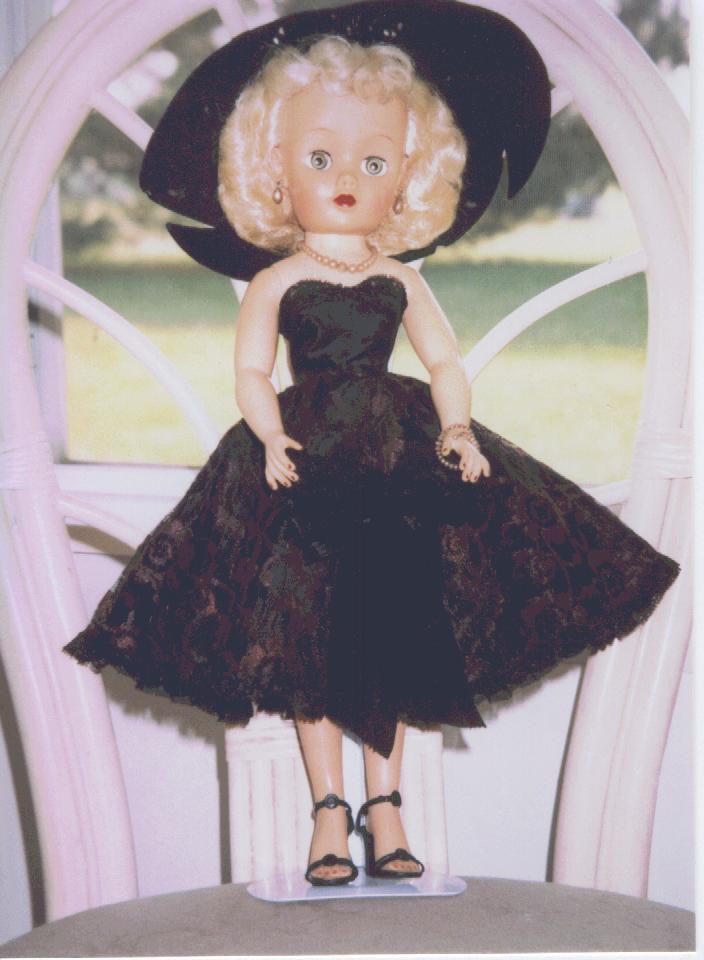 Here is a beautiful Aranbee Miss Coty doll, in the 18 inch size. Look at the traditional Patinum blonde hair with the large felt curved hat, notched at three points. She wears a black strapless rayon dress with black lace overlay over a black tulle half slip, with tulle ruffles at the hem., and has a water taffeta black bow. She has pearl earrings, and necklace, fingers and toes are painted, and sparkling eyes.
Now look closely at this picture. It looks to me, as though the bow is right in the middle of the dress, while Loren says that her doll has the bow at the tips of the fingers of the right hand. Ok, so are there two versions of bows.
These dolls were usually put out with matching outfits for the smaller 10.5 doll. More pictures of these dolls can be found in the new Revlon book, put out by Kathy Barna, and found in other locations on my web site, look under Revlon.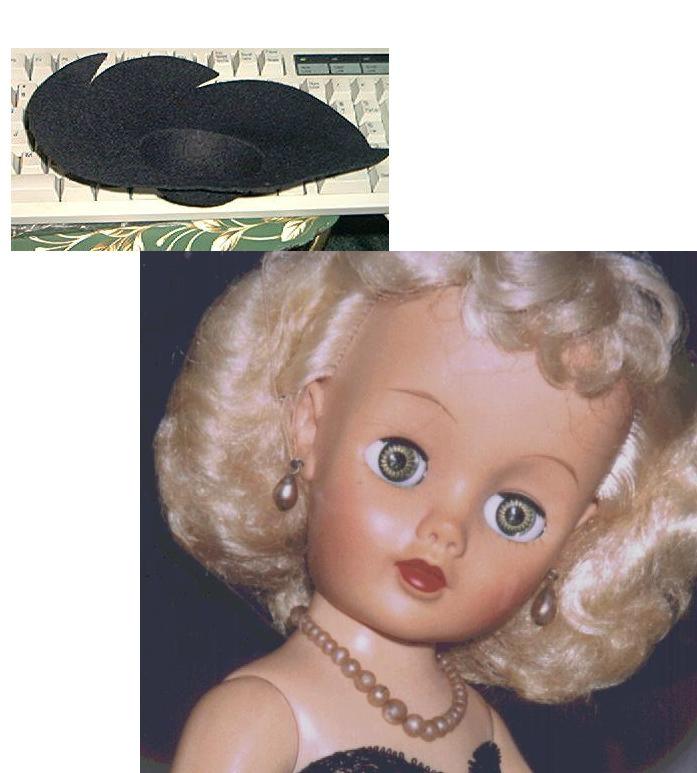 This box is in fairly firm shape. One corner is split, and there is adult written crayon markings indicating the little owners name and age. This doll has no markings. Without the box, this doll could be considered just a knock-off of lesser value than a mint Revlon. So the next time you list a doll with a beat up box, DO NOT THROW IT AWAY !! That box gives more than protection, it gives history, provenance, and is extremely important!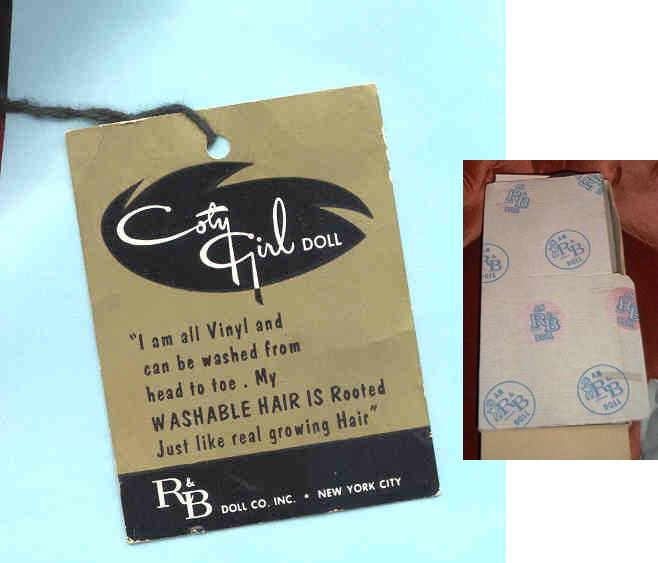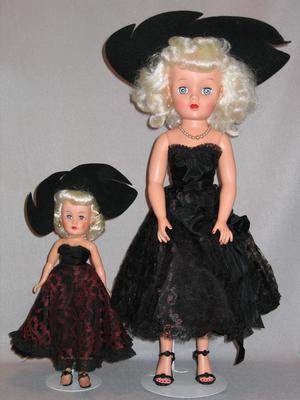 Barbara Knapp was showing off her pretty Coty dolls in the 18 inch and 10 inch versions. What a lucky girl to have both sizes, with hats, and platinum hair. Lucky lucky girl.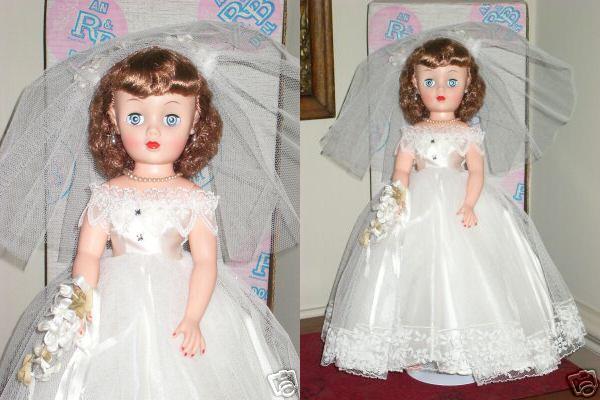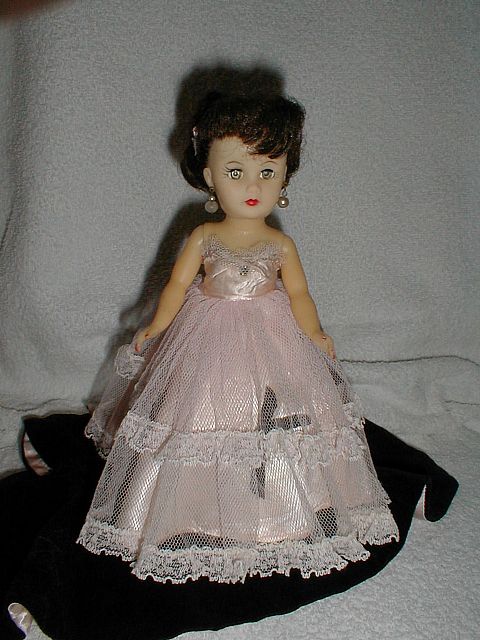 And what shows up recently on ebay, but this gorgeous 20" doll, a lighter weight plastic than that of the late fifties dolls, but this blonde with the same dress. You can rest assured that I was determined that this doll was coming to my home. The only real difference in the doll's outfit, is that it has two rhinestones at the center of the dress. I suppose with a longer waist line, there was more room to add another one.
The box has no information on it other, than what the previous owner had written in crayola on the side--formal doll--The box itself, is grey and white stripes, with a blue cover, and red diamonds on the one end panel with lot no 2012, and blonde hair checked on it. Nothing on the box anywhere for manufacturer or date or anything...really frustrating to try and get information.
So here are my two dolls with identical dresses. The larger doll also came with her original box, nothing on the box at all, and she has the unusual feature of swivel wrists. A really unique pair.

A recent doll book came out with the larger 18" doll being named Nannette, and available in 15 and 18" versions. They were being marketed in 1958.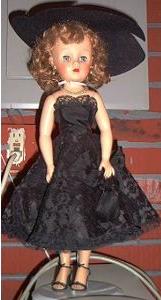 This doll was sold by an internet friend, Loren, who didn't realize what a doll she had until book publishers were emailing her for pictures for books. She found out that this 17 inch beauty is more rare than even the most difficult Revlon doll size to be found, and she is mint in box. The doll is not known as Nanette, but an even rarer doll called COTY GIRL DELUXE and was only available in the 18 inch size(I know, I wrote 17 but she's
measured as an 18).
"This doll is virtually identical to that doll except for size. She wears a black strapless rayon dress with a black lace overlay. On the skirt at fingertips of left hand is a water taffeta black bow. Her hair is slightly mussed from her hat but is very shiny. The hat is a molded black felt with a wide oval brim. The brim is cut with large curved notches as is the smaller version. It almost looks like its spinning, giving the illusion of movement. She wears her original pearl earrings ( no green ear ) and necklace. Having never been played with, she appears to be just as clean and new as the day she was originally sold. Under her dress is a black tulle half slip with a tulle ruffle at the hem. Her undergarments are a white paneled panty with sheer black embroidered front, original nylons, with no holes, but there is a tiny line, mostly a touch of dust. Her shoes are perfect too. There are no cracks or broken straps. When holding this girl you can feel the crispness of her clothing and see the striking high color of her face. She certainly is a rarity. So rare in fact that the famous doll museum doll sales outlet didnt know what she was when I purchased her a couple of years ago. To be honest, I've never seen her in a book either."
Showing below are the little 10 inch dolls like mine is. Look at that pretty package of goodies some little girl got for birthday or Christmas. What a doll !!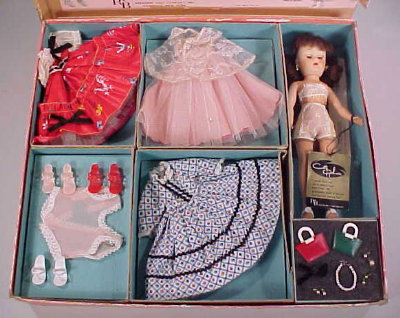 Click the pictures for close-ups of the face, and the box that I probably got that Christmas.
Here is another example of the box not indicating the importance of the doll. I checked with a member of one of the internet doll clubs that has a lot of the Coty dolls, and she verified what my eyes were saying...in fact I was hearing whistles and bells...that this was a Coty Nannette doll in the 18 inch version. I still have to locate a picture of one of the 10 inch dolls in this bridal dress, but I'm almost positive it's in the book for the Aranbee dolls. I'll add it when I find it. Meanwhile, thanks a bunch, Ann, for the use of your pictures for others locating their lost dolls.