Gee, Mom goofs up once in a while, and calls the real kids the wrong name, or her sister's name, sometimes, but she never ran out of names. It looks as though they could have found a pretty new name for a pretty doll. Look at all those RUFFLES! Bet someone had fun sewing all that on.


You are viewing a beautiful Bonnie doll, wearing an exquisite lace bridal gown, headpiece and shoes. She comes with the original box. The box claims that she is "completely unbreakable" and is made by the Deluxe Premium Corp, N.J. This lovely doll has sleepy blue eyes and short strawberry blonde hair. She has fingernail polish on both her fingernails, and toenails.



If your doll has lost her shoes...click here to get new ones !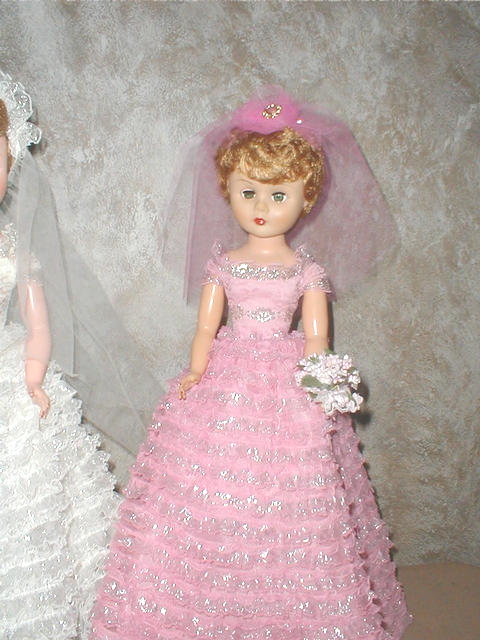 My brother-in-law bought this doll and brought her to me to clean up. Well, she wouldn't come back to white, so I dumped her dress into the dye vat to make me a bridesmaid for Bonnie. Now I have two, one with the original gloves, and one with the original veil. You see here, the minty one with the veil, and her new bridesmaid...isn't that a pretty picture.