This is this beautiful lady's face at a closer view.
Penny Phaneuf from ebay sent in her pictures of her doll and box. Here she is "brand new". I checked with her to see if there was any writting on the box, and she said it was plain, just blue and white stripes. Thanks Penny, for sharing.
Yvonne sent in some pictures of her Mother of the Bride doll collection. She has quite a few. Here are some of her "minty" dolls.
Manco put out a version of the Mother of the Bride doll. I emailed the seller for permission to use the pictures. Isn't she a beauty with that shock white hair.
She is all hard plastic, with a soft vinyl head, platinum hair, jointed arms and legs, but without the twist waist of the Revlon dolls. She is mint in her original box. She wears a shocking pink taffeta dress with white net overlay skirt, pink plastic high heel shoes, a faux fur grey stole and flowers in her hair.
Notice that she has the same type of flowers in her hair as the other versions, and same type of dress and stole.
Wow, she doesn't look to bad for a grey haired lady. Didn't anyone tell her about Clairol products? You can bet I'm not getting salt and pepper hair, although it's not tooooo bad.
How are you doing with Mom's dolls. She still has a few to go.


This is the dress that I most frequently see on this doll, although it came in on a brunette of mine, with paper flowers on her hair. She had the same type of body, so who knows.
The dress is a halter top dress, of heavy silver metalic fabirc, and a silver tie. The skirt is a pink taffeta with a silver shot net overlay, sewed on the top of the taffeta with silver trim.
She should also have a "mink" stole that goes around her shoulders.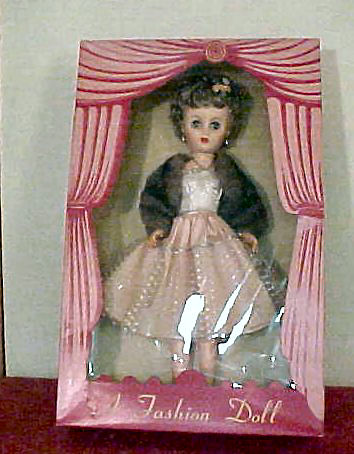 Sally Schipper sent in pictures of her Mother of the Bride doll that she sold on ebay a while back. Look at that gorgeous box. And Michael Lane sent in the picture of the same doll with the blue dress...Way to go !
Now, I forgot to ask if that fur coat she has on has sleeves in it, but it sure looks like she is nice an warm, right?