Shown in the black dress is Royal's Lilo. She was put out with this fantastic dress, and lacy type hat, in the platinum blonde version. You'll find her a lot on ebay. Royal sure knows how to wow you with their outfits. Click on the face shot, for a back view.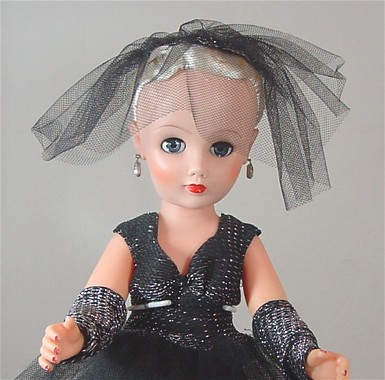 Her blond hair is pulled into a fancy bun with original hairnet and hair pins still in place. Her face has a fantastic complexion with sparkling blue eyes. Her underdress is made of pink taffeta with a blueish cast. An overdress is made of blue tulle with painted on pink/silver and gold flowers. She is truly stunning. She has a tulle gathered hat made to match her dress, hatpins included with matching pink taffeta panties with lace trim. There is also a blue net slip to made this a magnificent outfit. Completing the look is double faux pearl earrings and black strap elastic shoes and tulle gauntlets on her arms. She comes in her original box marked Royal Doll. The label is marked Blond, blue, number 75/20.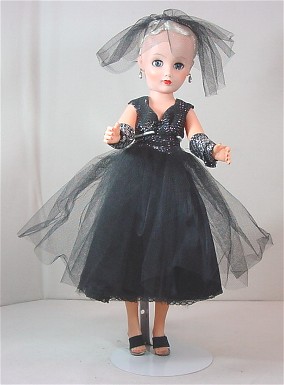 Click on Lilo to see the back of her hair.
She has a clip of a catalogue featuring her and her dress...verbage is hard to read:
Let's Go Partying
So Stunning--filmy net cocktail hat perches smartly on her beautifully styled hair. Net over taffeta skirt, bodice woven with rich silver threads. Long evening mitts complete the ensemble. Earrings, high heels, nail polish, rooted hair, sleeping eyes, vinyl body. About 18 inches tall. $4.98