Here is an all original Suzy Homemaker doll that looks as though she has never been played with. She comes with her magic mirror and all of her original assessories, plus her box. The graphics on it are great. The box is in used condition, but not torn after being stored in someone's attic. She was made by Topper Toys, also known as Deluxe Reading.
Thanks to Helen Powers for her pictures on her doll.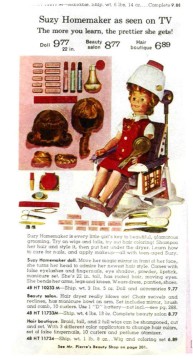 I rescued this copy of a magazine article from Suzy Hollander, who loves to collect this type of doll. She sent me the whole page, but I'll just give you the jist of it, since I can't get it to come out clear. But click on the picture, and her instruction sheet shows up.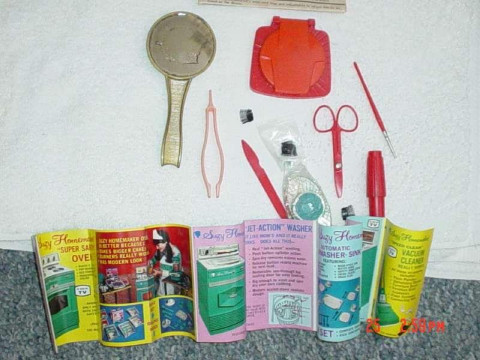 Suzy stands 22 inches tall and comes with her original dress and white shoes. Click for a back view.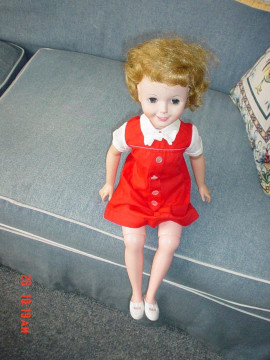 Click on the picture for a good look at this cutie's face. She has jointed knees so she can sit easily.
Suzy Homemaker is ever little girl's key to beautiful, glamorous grooming. Try on wigs and falls, try out hair coloring? Shampoo her hair and style it, then put her under the dryer Learn how to care for nails, and apply makeup--all with the teen-aged Suzy.
Suzy Homemaker doll. Move her magic mirror in front of her face, she turns her head to admire her newest hair style. Comes with false eyelashes and fingernails, eye shadow, powder, lipstick, manicure set. She's 22 inches tall, has rooted hair, moving eyes. She bends her arms, legs and knees. Wears dress, panties, shoes. $9.77
Beauty Salon. Hair dryer really blows air! Chair swivels and reclines, has manicure bowl on arm. Set includes mirror, brush and comb. 10 curlers. $8.77
Hair Boutique. Braid, fall, and 2 full wigs can be shampooed, cut and set. With 3 different color applicators to change hair colors, set of false fingernails, 10 curlers and perfume atomizer. $6.89