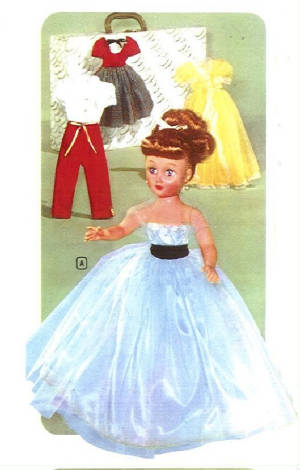 A cute teen-age doll with all-vinyl body . A pert doll with a permanently rooted Saran pony-tail hairdo and long-lashed sleeping eyes. She is in a beautiful long formal with matching stole, high heels, nylon stockings. Her wardrobe consists of a bright plaid street dress with bow-string trim, a lovely lace-trimmed nylon robe, and a 2 piece toreadore outfit, lace blouse, and velvet slacks. She comes with jointed arms, and in a suitcase, and is 18 inches tall. Retail $8.98. .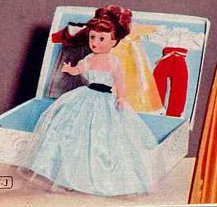 16 inch doll in a formal gown with net overshkirt, lace panties, nylons and high heeled shoes. She has superflex legs which bend to any position, sleeping eyes and rooted hair. Comes in a suitcase and three extra outfits.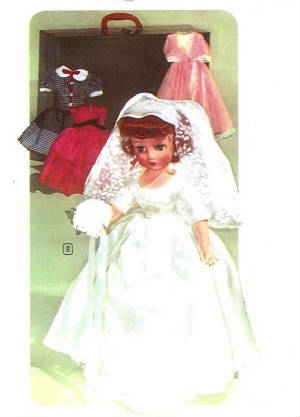 This is a sweet bride with rooted hair, and sleeping eyes. The bride's so lovely, with a truning waist, delicatedly formed plastic body, and long tapered arms. She has permanently rooted Saran hair, which can be washed, combed, and waved. She is dressed in a white satin bridal gown with flocked nylon net inserts, and lace trimmed neckline. She has a satin headpiece with a flocked net veil, high heeled shoes, nylon stockings, and taffeta panties. Her troussseau includes her party dress of taffeta, checked taffeta princess-style frock with a perky white collar, and a lace-trimmed nylon negligee. In her trunk, she is 18 inches tall. Retail is $14.98.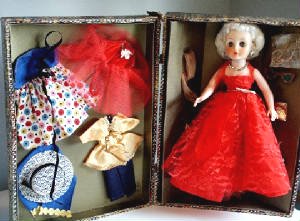 Sweetly sophisitcated in a net formal, rhinestone earrings, necklace, a gold bag, and tucked in the trunk, are shoes, ballet slippers, and a tutu, startched lace hat, stole, dress, and robe. She has sleeping eyes, rooted hair, and a jointed waist. 20 inch doll is $13.98, 16 inch doll is $9.98. This is from the Wards Catalogue 1958.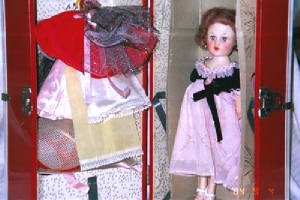 re is Barbara Knapp's Trunk Cindy showing off two of her outfits. The pink gown is under Mardi Gras for a closer look with her 18 inch sister.