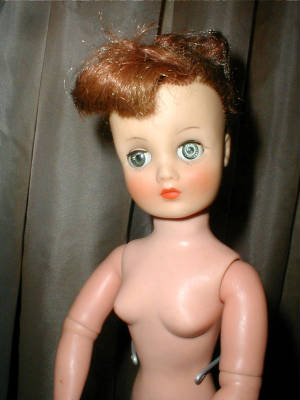 Here is the head and shoulders of the most frequently found Horsman 18" glamour doll. This one has a filled single body with no moving leg joints, but she does have ball jointed elbows. Not that they hold a position really well, but it was a neat selling feature. She comes in a variety of hair colors from platinum blonde, to dirty blonde, to a pretty yellow blonde and a firey red.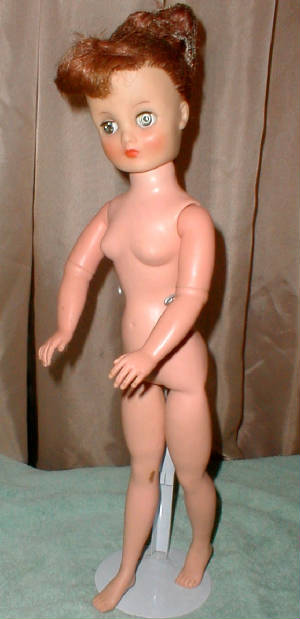 Here is her body. My model has a boo boo on her leg, but it's not a big deal, she just hasn't had a spa treatment on it yet to remove it. Her feet are tiny, and shaped for high heeled shoes, as most of us remember wearing as we walked out the door in our street dresses...no slacks back then, girls. And don't forget the hat and gloves.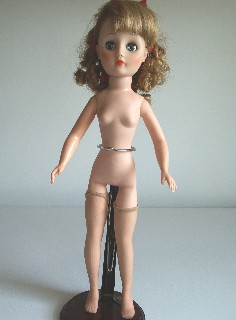 15" Cindy, one piece stuffed vinyl body, high-heeled feet.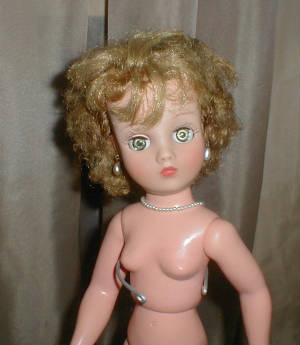 Here is the movable arm and leg, swivel waist version close-up. Isn't she pretty, or am I just prejudiced?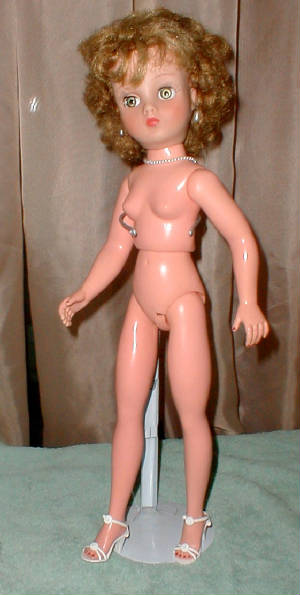 This is the straight leg, swivel waist version doll. Her arms and legs are both movable.
We have found two different types of arms and hands on the 15" Cindy dolls. The arm and hand on the left, although hard to see, is slightly thinner than the one on the right.