Wedding Set

I recently received another email from a doll collector friend, that she had this doll set that I didn't...imagine that. Well, she gave me permission to use her pictures on my site, so more would have access to her treasures. Thanks Lena.

Our doll clubs were digging for other pictures of dolls, and ran across this picture in a Bishop's Catalogue, 1958. It looks as though there may be variations of the little flower girl's dress.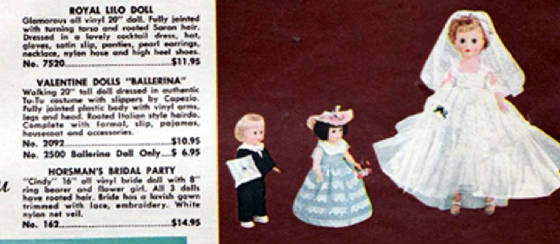 This Wedding Trio Set consists of three all vinyl dolls, jointed at the neck, shoulders and hips, with blue sleep eyes and brush lashes. The family is packaged in a gold box with blue cathedral trim on the edges.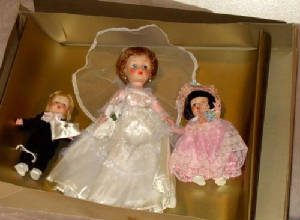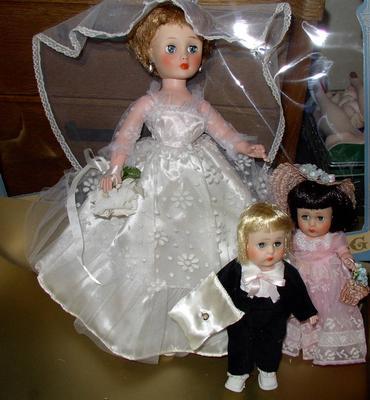 The 15 inch bride is in white taffeta with white flocked overlay, three quarter length sleeves, and net trim. She is wearing a heavily started crinoline slip trimmed in lace. Her full circle veil trimmed in lace and bridal bouquet completes her outfit.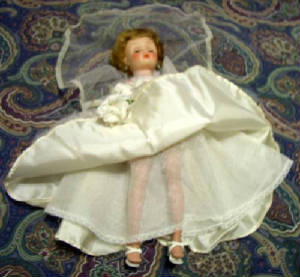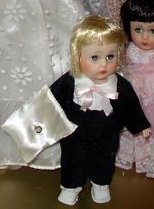 The ringbearer is a small 8" doll, with black suit, white shirt, and a pink tie. He is carrying a white satin pillow with the ring tied to it. He has short blonde hair, and white shoes and socks.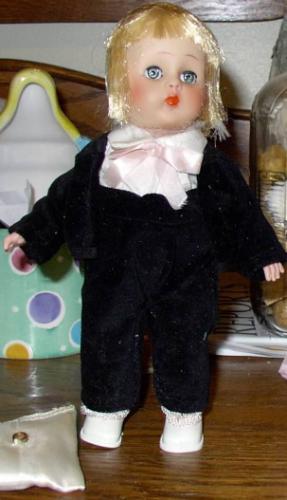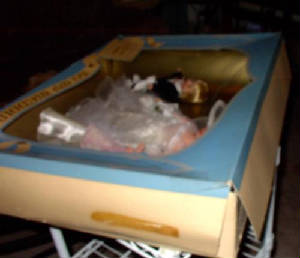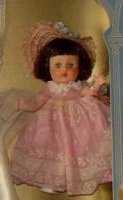 HeThe brunette flower girl is 8" tall, with a pink printed sheer floor length dress and pink taffeta underskirt, white trim, and white shoes and socks. Her outfit is completed with a pink straw hat and flower trim. She is carrying a small basket of flowers...not showing well in this picture.