Family Trio Set

I recently received an email from a doll collector friend, that she had this doll set that I didn't...imagine that. Well, she gave me permission to use her pictures on my site, so more would have access to her treasures. Thanks Zendelle.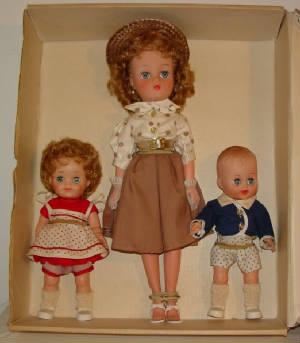 The Family Trio Set consists of three all vinyl dolls, jointed at the neck, shoulders and hips, with blue sleep eyes and brush lashes. The family is packaged in a plain white box that suggests it may have been sold through a mail order catalog. On one end is a printed label that reads
"FAMILY TRIO SET."
The mother is a 17" Cindy, with rooted blonde hair in curls, mature figure, pierced ears and high heel feet. Mom wears a brown cotton skirt, cream blouse with large light brown polka dots and gold tone buttons, gold belt, gloves, petticoat and panties, nylon hose, white high heeled shoes, drop pearl earrings and a straw hat.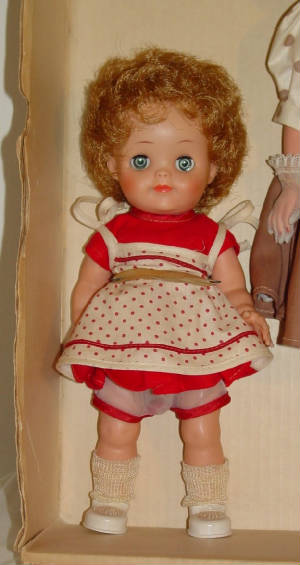 Her daughter wears a red short-sleeved cotton dress, white pinafore with small red polka dots and red trim, white nylon panties with red bands around the legs, white rayon socks and white shoes. She is 10.5" tall, with curly blond hair and a closed, slightly smiling mouth.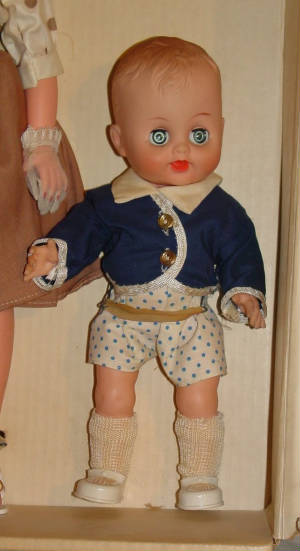 Her brother wears a cotton playsuit that has a white short-sleeved top attached to white shorts with small blue polka dots, a blue long-sleeved jacket trimmed in white, white rayon socks and white shoes. He stands 10.25" tall with molded hair and an open/closed mouth with a big smile.